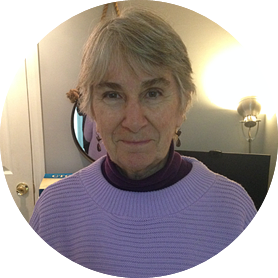 Diane Brown, MA, CCC-SLP
Director of Clinical Education
Supervising Speech-Language Pathologist
ABOUT
Diane Brown is the senior speech pathologist of New York Neurogenic. She is an ASHA certified, New York State licensed speech-language pathologist, and has completed training in The Guardian Way NMES treatment for dysphagia, Lee Silverman Vocal Technique, and is an approved Medicare provider. In addition to treating our clients directly, Ms. Brown serves as Director of Clinical Education at New York Neurogenic, supervising Clinical Fellows as they complete their licensure requirements, and teaching clinical skills to graduate students from university speech-language programs in NYC and across the country.
Ms. Brown has partnered with Dr. Barrera for over ten years, since the creation of New York Neurogenic, to serve the communication needs of our clientele. She has clinical experience with all ages and populations. Ms. Brown has a special interest in adult neurogenic communication disorders including cognitive, voice, motor speech, articulation, and fluency disorders, as well as accent modification.
Before entering the field of speech-language pathology, Ms. Brown enjoyed a career in theater, creating theater works and performing in New York, New Orleans, and San Francisco, and participating in residencies in Curacao, Malaysia, Belgium. She is the director and filmmaker of "Lila, Eight to Thirteen", an award-winning documentary film about the onset of adolescence in girls, now in many university film libraries. Ms. Brown was a co-owner of Downtown Avid, a film editing facility in Manhattan.
EDUCATION
Lehman College
MA, Speech-Language Pathology
2006 – 2009

Antioch College
BA, Theater
1965-1970
EXPERIENCE
March 2012 – Present:

Director of Clinical Education, New York Neurogenic Speech-Language Pathology, P.C. www.nyneuroslp.com, 180 W 80th Street, New York, NY 10024

Evaluation and treatment of children and adults with developmental disorders/delays and neurogenic communication disorders.

Supervision, organization, evaluation, and scheduling of graduate student interns from colleges and universities across the US; arranged student observations for graduate students from the Philippines and Belgium.

May 2011 – Feb/ 2012:

Supervising Speech-Language Pathologist, The Raymond Naftali Center for Rehabilitation, Inc., 508 West 26th Street 10th Floor, New York, NY, 10001.

Supervising clinician providing rehabilitation services for clients with neurogenic communication or swallowing disorders.

May 2010 – May/ 2011:

Speech-Language Pathologist, CFY, New York Neurogenic Speech-Language Pathology, P.C.., 508 West 26th Street 10th Floor, New York, NY, 10001.

Evaluation and treatment of children and adults primarily with neurogenic communication disorders.