Dysphagia or difficulty swallowing can occur in children and adults. It is especially common in the elderly and with individuals with neurologic conditions. The term dysphagia refers to difficulty passing food or liquid from the mouth to the stomach. Dysphagia may be caused by factors such as poor dentition; acid reflux; stroke; progressive neurologic disorder; the presence of a tracheotomy tube; a paralyzed vocal fold; a tumor in the mouth, throat, or esophagus; or after caner or surgery to the head, neck, or esophagus.Many swallowing disorders may be helped by swallowing therapy. A speech-language pathologist can provide patients with diet modifications, special exercises to help coordinate the swallowing muscles and/or apply Neuromuscluar Electrical Stimulation (The Guardian Way™) to stimulate the muscles responsible for safe swallowing.
Guardian Therapy
Clinicians at New York Neurogenic SLP, P.C., are certified and experienced in the delivery of The Guardian Way™ to help improve swallowing function across the lifespan.
How Does It Work?
The Guardian Way™, a fundamentally different approach for the treatment of dysphagia using Neuro Muscular Electrical Stimulation (NMES). From the beginning Spectramed, Inc., pushed to develop better dysphagia therapy electrodes and state-of-the-art stimulators. Collaborating with the very best in the speech language community has led Guardian Therapy to consistently produce better outcomes in half the treatment time.
GUARDIAN uses clinical electrical stimulation to train the muscles used in swallowing. Our trained specialists administer GUARDIAN while helping patients "re-educate" their muscles through rehabilitation therapy.
Specially designed electrodes deliver a small, painless electric current.
The current stimulates the submental (suprahyoids and thyrohyoid) region.
The muscles responsible for swallowing contract.
The quality of the swallowing function improves.
With repeated therapy, muscles are re-educated.
GUARDIAN is remarkably successful in real-world use. It offers better and faster results than any traditional therapy.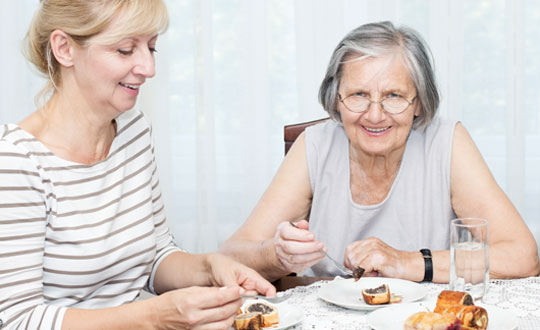 Who is a candidate?
A patient is indicated for dysphagia therapy when they:
Show signs of, or are at risk for aspiration and/or,
Have difficulty managing their diet, and
Have difficulty managing saliva.
Unable to meet full nutritional needs by mouth
Swallowing is effortful, un-enjoyable, or takes too long.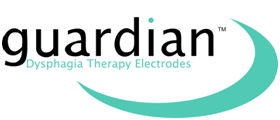 Why the Guardian Way™?
Over 30 years of neuromuscular protocols developed at places such as Ranchos Los Amigos Rehabilitation have become a cornerstone for the treatment of muscle re-education and strengthening of all muscle groups. We believe that the premise of these principals equally apply to the treatment of dysphagia patients. Using a safe range of adjustable parameters the Guardian Way™ protocols offer speech pathologists an alternative to traditional dysphagia therapy.
Shown Safe by the FDA
GUARDIAN THERAPY utilizes neuromuscular electrical stimulation (NMES) technology. Cleared to market by the FDA, GUARDIAN is safe and effective for use on the swallowing muscles in both pediatric and adult patient populations. The only adverse effects reported are a slight, occasional redness of the skin.
Who Can Get Guardian?
Guardian Therapy must be delivered by a Guardian Way trained speech-language pathologist. It should only be administered only under the direction of certified health care professionals with at least three years of experience treating dysphagia.
Contraindications for Guardian Therapy are specific to patients suffering from dysphagia. Caution should be used with patients who have cardiac demand pacemakers. Do not use NMES for patients with a defibrillator.
To learn more about Guardian, contact us or visit www.guardiantherapy.com
For more information or to
schedule an evaluation